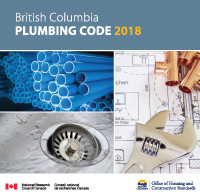 BC Plumbing Code 2018
The BC Plumbing Code (BCPC) sets out technical provisions for the design and installation of new plumbing systems to protect health and prevent water or sewer damage. It also applies to the extension, alteration, renewal and repair of existing plumbing systems. The BCPC is applicable throughout the province except for some federal lands and the City of Vancouver.
The BCPC is based on the model National Plumbing Code of Canada with some modifications specific to BC.
This online version has the following features:
Automatically updated and consolidated with new revisions
Ability to narrow your search to a specific part of the Code
Access to view the previous 2012 and 2006 BC Codes
Ability to save and insert personal notes
Allows highlighting of text for easy referencing
Flexible and convenient download feature offering remote, time-limited, accessibility
Products & Pricing
Combo Print/Online - Single User 1 Year Subscriptions
| | | |
| --- | --- | --- |
| BC Building and Plumbing Code Binders and Online | $721 | |
Back to top
Print
| | | |
| --- | --- | --- |
| BC Plumbing Code Binder | $221 | |
| BC Building and Plumbing Code Binders | $524 | |
Back to top
Online 1 Year Annual Subscriptions
Back to top
Online 5+ Years (Lifetime) Subscriptions
Back to top
Online Pass - Single User*
Back to top
Note: Licensing is by organization for all multi user online subscriptions. All sales are final.
*For all Online Access orders, activation instructions will be emailed no later than the end of the next business day.